A LONDON-BASED Branding Produced with MARBON factory with US FDA 21 CFR 820 GMP Certification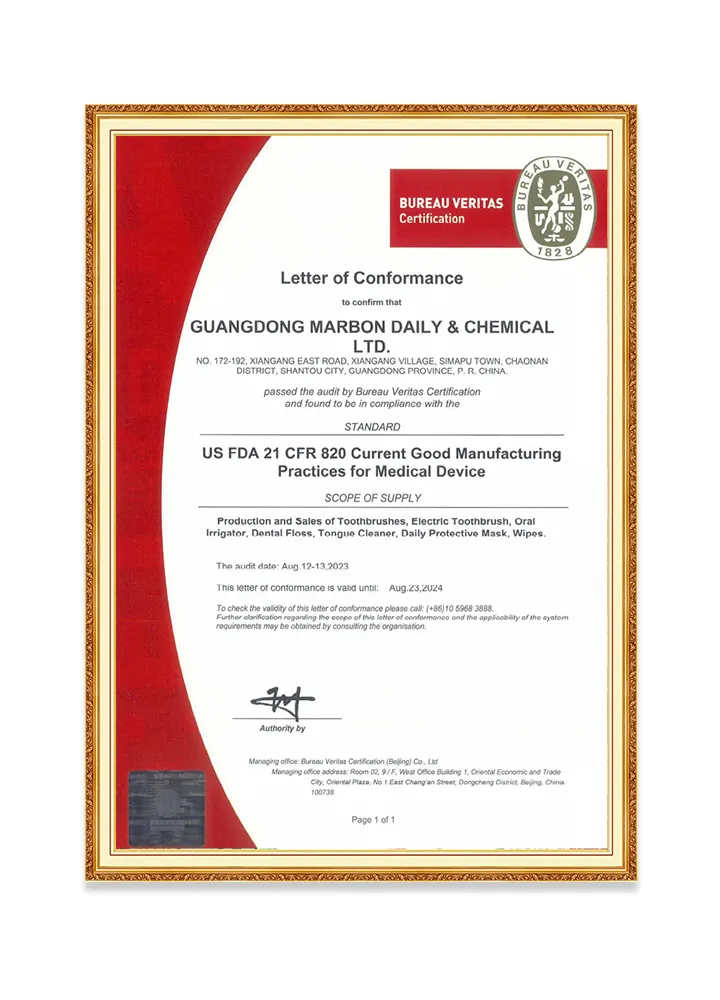 Oralgos Toothbrush is a proud factory, and we are delighted to announce that we have obtained GMP certification in accordance with US FDA 21 CFR 820, the Current Good Manufacturing Practices for Medical Devices. This certification signifies our unwavering commitment to excellence in quality and safety.
GMP Standards for Medical Devices
US FDA 21 CFR 820 GMP certification represents a stringent set of standards set by the U.S. Food and Drug Administration (FDA) for medical device manufacturers. These standards encompass regulations for production, packaging, quality control, and record-keeping to ensure that the produced medical devices meet the highest quality and safety standards. By achieving this certification, we pledge to manufacture toothbrush products that meet the most rigorous medical device manufacturing standards.
Your Trusted Choice
When you choose Oralgos Toothbrush products, you can rest assured that you are selecting medical devices manufactured by a factory certified under US FDA 21 CFR 820 GMP standards. Our factory adheres to best manufacturing practices and enforces strict quality control to ensure that every Oralgos toothbrush meets the highest quality standards.
Pursuing Excellence Together
Oralgos Toothbrush upholds the principle of "Quality First, Customer Satisfaction." We will continue to strive to meet and exceed your expectations. We appreciate your trust and look forward to providing you with excellent products and services.